Customer Reviews
Write a Review
Ask a Question
10/18/2020
David C.
United States
Seeing is believing
This stuff really works you definitely get that extra pump in your work out, you feel it as well as see it
10/07/2020
Gueary R.
United States
Truely Insane
I love Crea Nitric 100. It has, however, driven me to unfamiliar territory. My pumps are so intense, I am having to stop my sets prematurely. This is new to me. But for the reason I love this sport, it is yet a new challenge. I accept.
09/22/2020
Larry E.
United States
Larry J E.Jr. creanitric
Its Basically the best pump on the market, I take it before I leave home and people ask me if I was just working out. I take it before i hit the gym and after abt 12mins. everybody in the gym is looking me. I see them through the mirrors. Not tp mention the pump is incredible it actually motivates me to workout harder. I wish it was my best kept secret!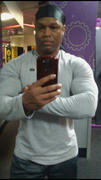 09/16/2020
Jeremy C.
United States
Max pump
This mixed with Argi gets a bigger pump
08/18/2020
Sugey L.
United States
Fantastic product
Along side NO CHEWS and the clear cut CLA this product helps with my muscle gain and recovery. I don't know too much about science but it all works very well together.
08/18/2020
John M.
United States
Great stuff
From the first dose I took of this , I could feel a difference. Gives me a clean pump without making my heart race and no crash afterwards. Would recommend to anyone looking to up their game
08/16/2020
Adam O.
United States
Crea-nitric 100
I liked the pump in my workouts with it.
07/04/2020
James J.
United States
Powerful
This item in collaboration with argi pump, has tremendous benefits. I get a great pump throughout my work. Crazy strength to finish my sets and recovery has been less painful. Very impressed with crea-nitric. Thanks-JamesJenkins
MAXIMUM MUSCLE PUMP & POWER
Crea-Nitric 100 delivers the purest form of creatine nitrate for a powerful, pure, and non-stimulant preworkout boost.
The creatine nitrate in Crea-Nitric 100 is a specialized nutrient that contains both creatine and nitrates from food that are research proven to increase muscle strength, density, and power, along with increased blood flow, mind-blowing vascularity, and better pumps.
PURITY + DOSE = POTENCY
Most products on the market only use a small amount of creatine nitrate because of the cost. They advertise that they have it but when you look at the label, it is usually a blend containing only a small amount of creatine nitrate. In addition, creatine nitrate can easily contain harmful chemicals if not produced under the strictest of standards.
Each capsule of Crea-Nitric 100 contains 780mg of 100% Creatine Nitrate. Crea-Nitric 100 has the lowest levels of creatinine (a waste product of creatine production) and ZERO of the chemicals Dicyandiamide and Dihydrotriazine that can inhibit Nitric Oxide production.
Benefits
- boost nitric oxide
- muscle strength
- muscle size
- increased stamina
- increased blood flow
- blood pressure regulation
- increase libido
Don't just take our word for it. Take a look at these testimonials from happy bodybuilders, just like you!
Caileen Walker
"Hands down my favorite supplement from @gainsinbulk is their Crea-Nitric 100 capsules! These things are LEGIT. I can definitely feel a difference when I don't take these before a workout. I've taken creatine before in powder form mixed with a liquid but for me it takes so long to drink and as a mom I have no more hands available! I'd rather pop 3-4 crea-nitrics in my mouth real quick in the parking lot 🤣 These capsules are the purest and cleanest forms of both creatine and nitrate available!"
Rob Terry
"The best & most pure supplements there is! These supplements will bring you one step closer to reaching your ULTIMATE GAINZ 💪🏼💪🏼💪🏼"
Cole Innes
"Holy cow, this product is amazing! I was introduced recently to this company and my purchase arrived yesterday. Took the recommended dosage this morning before my workout and the energy, pump, and strength I felt was like nothing I've felt before. Dump all your other preworkouts and use this. GIB--I'm a client for life now."
Crea-Nitric 100 ingredients & use
CREA-NITRIC 100
All Gains in Bulk products, including Crea-Nitric 100, are third party tested to ensure the highest level of purity. To prove our commitment to the highest purity, we provide Certificates of Analysis for every single purchase of Crea-Nitric 100. This certificate shows the exact measured amounts of each component within the formula.
We aren't interested in hiding our formulas behind closed doors. We believe that you deserve the best products, with the highest potency, and full transparency.
CREA-NITRIC 100 INGREDIENTS
CREATINE NITRATE: Creatine Nitrate combines creatine and nitrates (from food) molecules. The creatine boosts muscle strength and power, while the nitrates from food work to increase nitric oxide levels within the body to increase blood flow, nutrient delivery, pumps, and vascularity.