Instantized Creatine - Travel Size
Sale price
$5.00
Regular price
Shipping calculated at checkout.
15 Servings (75grams) Instantized Creatine.
Customer Reviews
Write a Review
Ask a Question
04/06/2022
Melvin B.

United States
The Truth
This creatine is THE TRUTH. It's easy to down and I am actually feeling & seeing some remarkable gains. Yes I admit I was a little skeptical initially however that old saying "the mirror don't lie" is THE TRUTH. Oh and I must give the fellas in customer service a fistbump for their professionalism...highly appreciated.
03/14/2022
Brannon C.

United States
Works for me
Love this product. I love that it doesnt have all kinds of added ingredients. Very clean and easy to use. Customer service is outstanding!
03/12/2022
Christopher R.

United States
03/11/2022
Kristopher

United States
Kristopher
You didn't send me that. That's what I wanted to try but got sent pill form creatine. Was really wanting to try that product out.
03/10/2022
Marco A.Ortiz

United States
Esperanza a qué yege
Mi esperiensa es que aún no me mandan mi producto que ya compre estoy esperando todavia
03/10/2022
Christopher D.

United States
No grit all grind
This creating obviously mixes well as advertised, no grit or chalky taste, and I feel like I get what you should out of a quality creatine. I also know that I'm getting quality creatine because it shows higher levels for instants when I get blood drawn for my yearly checkups at VA. Lifts are up and no bloat look.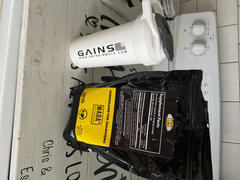 12/02/2021
Robert V.

US
Names Rob I been using
Names Rob I been using these products for a few months I can tell when I drink it it gives me more drive ,focus. An energy
12/01/2021
Travis W.

US
Great creatine
I switched to this creatine and have already had to buy another bag it's great stuff doesn't make you bloated and it really does dissolve completely in your water! Definitely recommend!!
12/01/2021
Kevin P.

US
Very happy with the results,
Very happy with the results, I immediately ordered the largest bag you have. Waiting on it's arrival now! Thanks again. Also ordered the nitric oxide pump to try. Can't wait for both to show up. Happy customer, Kevin
11/30/2021
Kim G.

US
Awesome creatine
Dissolves easily and had no taste. Reasonably priced as well.