Free Unlimited Return for Store Credit or Exchanges for $1.00 via re:do
Shipping calculated at checkout.
Customer Reviews
Write a Review
Ask a Question
03/15/2023
Beau D.

United States
Legit
Crea-nitric 100 is worth the buy…excellent pump and I'm already making gains
03/11/2023
Ezequiel M.

United States
Best digestive supplement out there
03/08/2023
David H.

United States
Great supplements!
I use three of your products, and I am thrilled with all of them! My workouts are more intense and rewarding since using them!
03/06/2023
Armando M.

United States
Never stop
I love the creatine. In factor is the only creatine I have ever stuck with this long. Thank you guys for making a creatine that number 1 does not give me a bloated feeling. Number two I can still do cardio without slowing down or feeling heavy after I finish weather lifting. The results so far have come in. From the water intake and creatine. I plan to keep buying only this creatine from your company. I also have the letter sent to me and stickers on my wardrobe to remind me how kind you guys are just to send a motivational note to me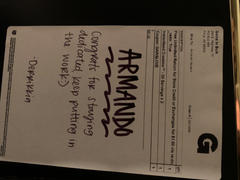 02/28/2023
Jessica R.

United States
Love this product Instatized Creatine
Shipping is always prompt and fast, product is great and no bloat its true. I do love this and repeated purchase for this. It gives me that extra push too ❤️ Thank you
02/25/2023
Rodney S.

United States
Thumbs up
Great products, helpful staff, I like the fact u use shipping insurance and speedy deliveries.
02/22/2023
Matthew R.

United States
Amazing
Great..1st time using anything like this But the product is far superior to other brands because of all the research. I'm seeing big results with minimal effort. Great product. My only gripe is that you make alot of different supplements for different things , but you need to tale them together.....why not make a super supplement with some of those thi gs combined, instead of having to buy 3-4 products, we can have one or 2 tht cover all the bases.